Reception
At Hateley Heath, children are admitted to Reception in the September following their fourth birthday.
At Hateley Heath, we greatly value the importance that the EYFS plays in laying secure foundations for future learning and development. However, we also believe that early childhood is valid in itself as part of life. It is important to view the EYFS as preparation for life and not simply preparation for the next stage of education.
Our Foundation Stage is organised so that children can explore and learn securely and safely. Our reception children have access to two reception classrooms and a creative room. We have a large outdoor area, climbing frame, forest school area and we also have access to the KS1 playground. Children have access to both inside and outside areas across the day.
Indoor environment
Our indoor environment consists of a range of different areas including role play, reading, writing, fine motor, discovery, small world and construction. Resources are always available and easily accessible for the children so that they can develop their independence. Each week we add provocations to different areas which are to inspire children or spark curiosity. Children have the choice of where they would like to learn.
Outdoor environment
Our outdoor area is shared between Nursery and Reception. We have a range of areas including performance, art, a mud kitchen, a gravel pit, sand pit and also an allotment. Children are also able to use bikes, scooters and our climbing frame. Being outdoors offers opportunities for doing things in different ways and on a different scale than when indoors. The children can explore, use their senses and be physically active and exuberant. All areas of the curriculum can be explored outside.
Please have a look at some of the photos from our Reception provision...
How you can support your child at home
Ensure that you have access to Class Dojo so that you can be kept up to date with news, important events and see how your child is getting on at school.
Read with your child a minimum of three times a week.
Your child will come home with reading books but they can also log into Collins with their personal login details.
I'd like to teach my child to read but I'm unsure of how to pronounce the different phonemes
Wellcomm Screening
Delayed language skills set the scene for under-performance later in life, yet many primary school children have unidentified speech and language difficulties. We use WellComm screening to try and support our youngest learners with any speech and language difficulties they may have.
Through the identification of children needing speech and language support, we can plan play-based activities to help make a crucial difference to their confidence and attainment.
This is an example of our most recent screening outcome: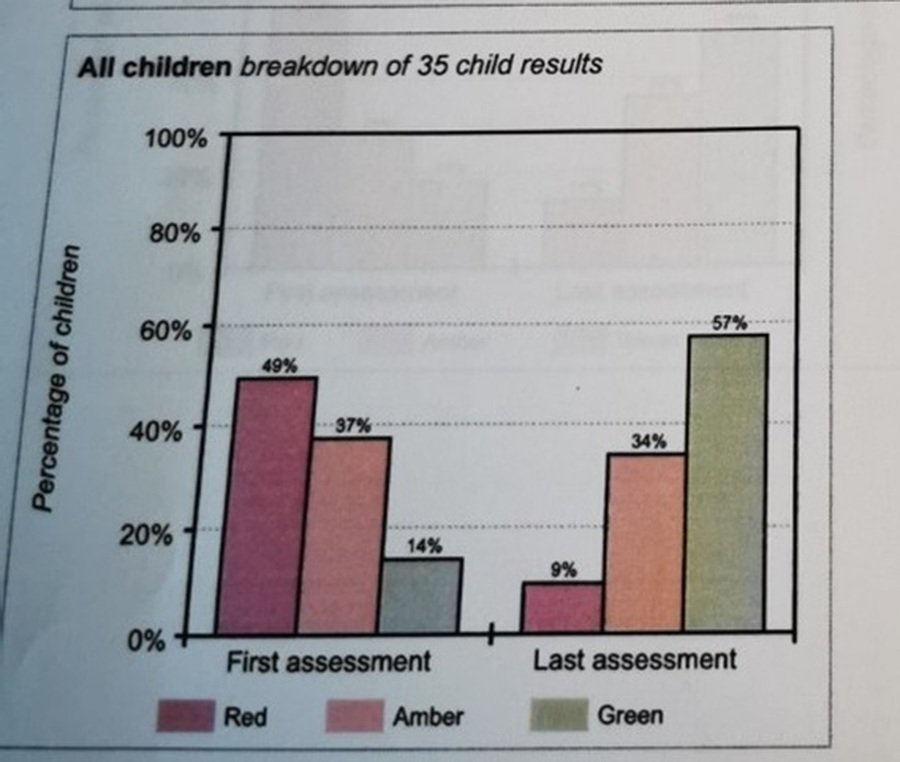 Red means consider referral to a specialist service.
Amber means extra support and intervention is required.
Green means that no intervention is required.
Mrs Watson supports us with Speech and Language in Early Years.
GLD
At the end of each academic year we assess which children in Reception are considered to have met a 'good level of development'. Often, children starting Reception come in working below the expected level for their age.

2019 - 64% (53% EYPP) 2020 - 43%
Due to COVID-19, the 2020 figure is an estimate of who would have met GLD after missing a term of schooling.