Use of Social Media
Use of Social Media
4 December 2020 (by Jess Hill (jess.hill))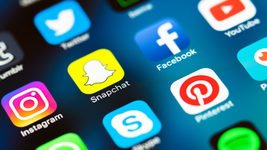 Dear Parents and Carers,
As you are aware, access to and use of social media is currently commonplace and has become second nature to many of us. With this in mind, we wanted to provide some advice that is intended to help safeguard your children and yourselves as parents/carers. Social media is a good example of how online behaviour can present e-safety risks. Users can express themselves with online personalities and chat and socialise with peers. They can publish and share multimedia content such as music, photos and video clips. If used inappropriately however, users can put themselves and others at risk. Something to remember is that if your child is using false information to obtain an account on a social media site, other people can do so as well.
Most social media sites allow users to set their profiles to 'private' for viewing only by approved contacts. By not using these settings, users can put themselves at risk.
Children and young people can also put themselves, and others, at risk when they:
Upload inappropriate, offensive or even illegal content to their own online spaces
Post material that could damage their reputation or the reputation of others
Post inappropriate comments on other people's profiles that is humiliating or results in bullying
Accept friend requests or engage in chat with people who they do not know.
Unfortunately, some parents and carers can also put themselves at risk when posting online about incidents that may have taken place at school. Cases of inappropriate comments to and about others, inaccuracies and misrepresentation of information are now commonly reported in the media and will be taken seriously by the school. Comments made online are not safe and secure and should never be considered as such. We need to set the best example for our children, so we would urge you to think before you type/post and also consider the school's home-school agreement. If you, as parents and carers have any concerns about matters taking place at school, please address them through the appropriate channels, i.e. a discussion with the class teacher or head teacher, rather than expressing your concerns online. In this way, we can work with you to address any concerns that you may have. Violence or threat of violence expressed online is completely unacceptable and potentially criminal. 'Cyber bullying' is taken very seriously by the school and Local Authority. If you have any concerns about your child's use of social networking sites or you would like support in knowing how to keep your child safe online please contact us for advice, support and signposting. Alternatively, you can access information via www.thinkuknow.co.uk
Age guidance: The age limit companies set for having a social media account with Snapchat, Kik, Instagram, TikTok (formerly Musical.ly), Facebook, and YouTube is 13 years old and above. For WhatsApp, it is 16 years old and above. Children can easily access highly inappropriate material on YouTube unless 'Restricted Mode' controls are set.
Use helpful phone features: Some devices and platforms have special features –try using these features to keep track of how much time you and your children spend on screens or social media. For example, when Apple released iOS 12, they made a giant leap in supporting families with the release of their new Screen Time feature. With this you can set your limits and restrictions across all devices linked to your iCloud account, including family members. There are other Apps such as 'Ourpact' that help parents to set limits on usage and access and the NSPCC has excellent resources for online safety.
We strongly recommend that families ensure children's phones are outside their bedrooms at bedtime and that parents set time limits for their children's screen (including phones) time.
- Serious bullying that is causing the recipient much distress
- Threatening behaviour, particularly with the intent of violence to someone
- Racist and homophobic behaviour
In an event of this taking place, you should phone 101 or report the incident on the police website.
Yours Sincerely,
Mrs Garcha
Head Teacher