Covid-19 Update - January 2021
Covid-19 Update - January 2021
2 January 2021 (by Jess Hill (jess.hill))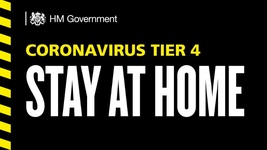 We hope you all had an enjoyable and well rested Christmas and new year!
As you are aware, Sandwell has been raised to Tier 4 over the Christmas period. Following recent government advice, we are still expecting to be open for children to return to school on Tuesday 5th January as planned.

The new strain of Covid-19 means that as a school community, we must ensure we continue to each play our part in order to help reduce the spread of the virus by following the rules on wearing face coverings and social distancing. Around 1 in 3 people with Covid-19 show no symptoms so will be spreading the virus without realising. Attached is the latest breakdown of what tier 4 means for the Sandwell community.
You can view the most up to date government Covid-19 advice and information on the gov.uk website - https://www.gov.uk/coronavirus
We look forward to seeing the children back at school next week!